10 Amazing Wrestling Moments That Came Totally Out Of Nowhere
7. Tommaso Ciampa Does It Himself - WWE NXT TakeOver: Chicago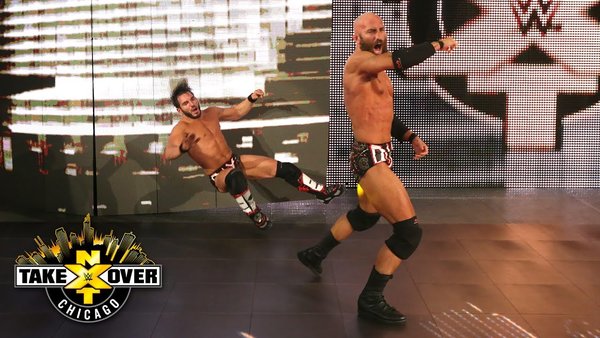 Returning to the undoubted peak of NXT excellence, another game-changing turn left the black and gold faithful in need of a serious lie down one year before Roddy's unexpected TakeOver twist.
And while the odd breadcrumb had admittedly been left in the form of Tommaso Ciampa teasing lashing out against his D.I.Y. pal Johnny Gargano after coming up short against him in the 2016 Cruiserweight Classic, that still couldn't prepare those inside of the Allstate Arena for the events that would follow the babyface duo's failed attempt at recapturing doubles gold at TakeOver: Chicago.
With Tommaso ultimately fearing the idea of being replaced and forgotten the second it became clear that he'd done some serious damage to his knee before and during the main event ladder match over the NXT Tag Team titles against the Authors of Pain, Ciampa absolutely shocked the world by snapping on Johnny Wrestling as the go-home NXT logo bled onto screens.
Still ranking as easily one of the most startling WWE beats of modern times, Blackheart broke the hearts of fans the world over after Trips and the gang had brilliantly lured their passionate supporters into a false sense of security.
More of this in 2023, yeah?