10 Awesome Ideas That Were Cut From WWE
9. The Rockers Win The Tag Team Belts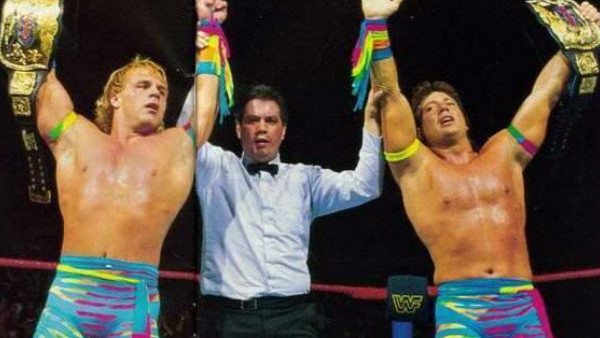 The team that famously gave us Marty Jannetty (and some other bloke), The Rockers were a tag team that existed in WWE between 1988 and 1992.
Before splitting via barbershop window, the duo had high-profile feuds with The Brain Busters, The Twin Towers, and The Hart Foundation.
On October 30th 1990, The Rockers challenged Bret and Jim for their World Tag Team Championships in a two-out-of-three falls match being taped for television. The challengers came out on top, winning their first gold in the promotion. Unfortunately for them, this was not to last.
During the match, the top rope accidentally broke, which severely hampered the four performers in the ring. As a result, the match was deemed too rubbish for TV, so the title change was ignored.
The Rockers never got another chance to run with the belts which is a crying shame. They were incredibly over and would have made excellent champs, but it just wasn't meant to be.
Ah well, at least Marty would eventually win tag gold with The 1-2-3 Kid. As for that other guy, he never really amounted to much.