10 Best WCW vs. ECW Matches
Corporate cleanliness meets the grit of extreme!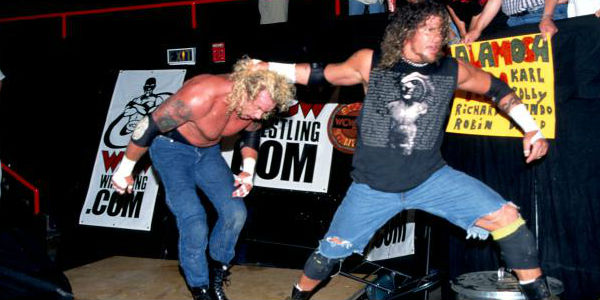 There's long been a rumour that ECW were working alongside WCW in the mid-to-late-90's, at least temporarily. The tale revolves around Todd Gordon apparently brainstorming ideas with top brass in Atlanta, looking to run a storyline which would see several top ECW stars invade WCW. Reportedly, Paul Heyman had nothing to do with this, and was furious when he found out about it. This would spell the end of Gordon's run in power at ECW, and likely would have threatened any relationship between Heyman and Vince McMahon, who was feeding ECW money around the same time. Exactly how successful such an angle would have been is up for debate, but a lot of ECW performers would eventually make their way to WCW in the last few years before both companies folded. The vast majority of the time, this was because WCW could offer better money and stability to wrestlers, who were likely looking for something different than mere promises from Heyman. This list looks at 10 different occasions when pro wrestling fans witnessed clashes involving people closely associated with Extreme Championship Wrestling going up against the WCW side. In most instances, the wrestlers coming in to WCW were portrayed as 'extreme' individuals who didn't really fit into the promotion, which is a pretty interesting way of working things.