10 Best Wrestling Reunions Ever
3. Evolution (2014)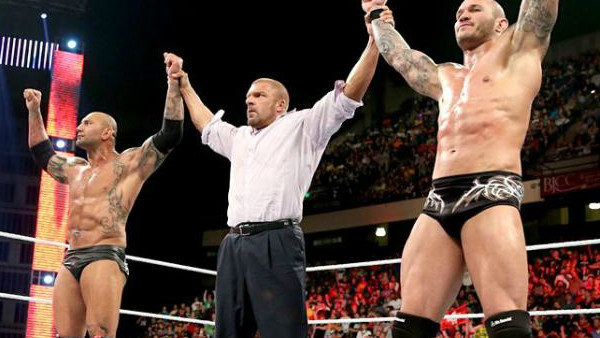 Every good act needs a strong antagonist to war with. Knowing this, WWE decided to take advantage of a natural story and bring back Evolution (sans Ric Flair) in 2014. This made sense, not only because of the Shield threat, but also because Daniel Bryan had beaten Triple H, Batista and Randy Orton in the same night at WrestleMania XXX.
Triple H reasoned that they'd have nothing to fear if they stood together.
Evolution's comeback is memorable for more than the cool visual of three top stars working together. It also helped further The Shield's run by giving them a credible group to beat at both Extreme Rules and Payback. Just as it had enhanced the careers of Orton and Batista between 2003-2005, Evolution was making others look good again.
A few months after it had been brought out of retirement to give Batista purpose as a heel and make The Shield look dominant, Evolution was shelved and WWE squeezed more juice out of the faction idea by booking Seth Rollins to turn on his stablemates.
The whole story was expertly told.