10 Best WWE Entrances Of 2016
9. The New Day - WrestleMania 32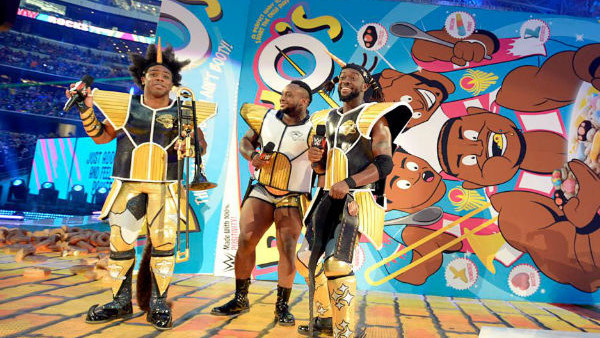 As previously mentioned, the bout between The New Day and The League of Nations wasn't particularly memorable. It was essentially a way to kill time before HBK, Mick Foley and Stone Cold could come out to perform their finishers on a heel faction. What came before it, however, will be etched into the annals of pro wrestling history forever.
It is common knowledge that The New Day has been an outlet for Xavier Woods's nerdier side (if he has any other sides, that is), but this entrance took the trio's hyper-aware, meta-weirdness to its logical conclusion. Dressed in Dragon Ball Z cosplay, Big E, Woods and Kofi Kingston emerged from a giant box of their own cereal, unicorn horns atop their heads, and with beloved trombone Francesca in hand.
Hands down one of the daftest things to happen at Wrestlemania (and that's saying something), the infamous Booty Os entrance cemented The New Day as WWE's top babyface team, allowing them to hold on to the RAW Tag straps for a lot longer than anyone could have anticipated.