10 Best WWE Hell In A Cell Matches EVER - According To Dave Meltzer
Cage Of Enlightenment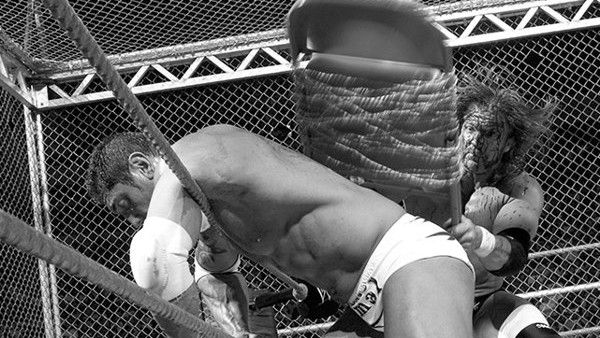 Bastardised conclusively by the annual pay-per-view event that bears its name, the Hell In A Cell match was once the logical extension to the cage match when only the most fearsome environment could contain a rivalry. Introduced with a match you'll read about at the top end of this list, it now stands merely as a monument to be trotted out when the calendar requires it, rather than conflict.
Truthfully, it's just another sad reality of the more-is-always-more content-heavy WWE of 2017. Superserving audiences almost to a fault, the persistent use of the gimmick over the past decade particularly has done more harm than good, as evidenced by some of the quality contests on display long before the battleground became little more than a forced fixture.
WWE don't always satisfy Wrestling Observer overlord Dave Meltzer, but Hell In A Cell matches maintained an astonishingly consistent level of quality before the concept became an overloaded means to an end instead of the 'Devil's Playground' it always should have remained.
Guts, glory, gore and gratuity are in high supply, with a rich history of heroics and hedonism from the match that once upon a time promised heaven as well as hell.
(NOTE: In the event of a tied rating, the most recent match gets preferential treatment. Wrestling evolves at a breakneck pace, and any older contest outperforming a contemporary equivalent is deserving of the elevated status)
10. Batista Vs The Undertaker (Survivor Series 2007, ****)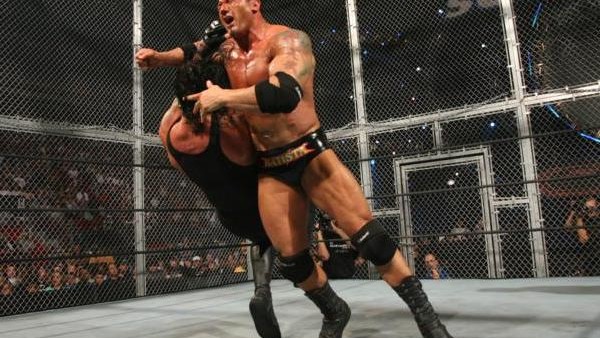 One of four Match-Of-The-Year candidates between the pair in 2007, the Survivor Series finale between Undertaker and Batista was in many ways a perfect variant of the match.
As a standalone contest, it was objectively excellent. Big Dave and 'The Deadman' redefined what it meant to be superheavyweights in the mid-2000s. Dispelling longstanding criticisms first with their show-stealing WrestleMania 23 and surpassing expectations in every future match they'd have, the giants worked at breakneck pace for performers their size, but never sacrificed the necessary physicality.
Away from the nuts and bolts of the battle though, it was also the end of two loose narrative threads and the start of a brand new one that would ultimately conclude in identical fashion several months later.
After a predictably gruelling war, a returning Edge made his mark disguised as a ringside cameraman. Removing the referee before he could register a certain three-count for Undertaker, the 'Rated-R Superstar' punctuated his vicious return with a camera shot and con-chair-to. Gifting one arch-rival the World Title in an act of spiteful revenge against the man he blamed for his injury absence, Edge closed the book on his story with Batista, as well as the 'Animal's own tale with 'Taker.