10 Best WWE Hell In A Cell Matches EVER - According To Dave Meltzer
9. Brock Lesnar Vs The Undertaker (No Mercy 2002, ****)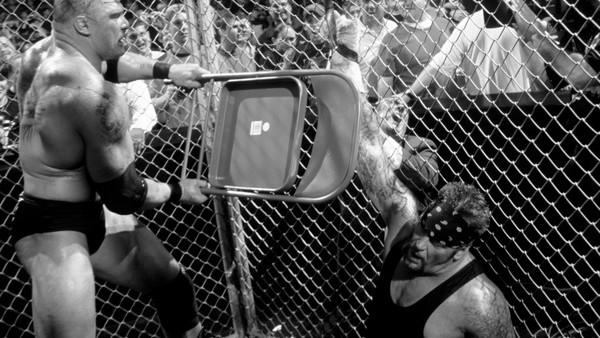 Though Dave Meltzer would narrowly prefer their Cell sequel 13 years removed from the 2002 vintage (more on that later), Brock Lesnar's No Mercy 2002 victory over The Undertaker marked the true moment he embedded himself deeply within the psyche of Vince McMahon as a main eventer for life.
Victory over The Rock at SummerSlam had propelled Lesnar to the summit, but it was a foundation built on mountainous selflessness from 'The Great One'. Such candour wasn't shared by 'The Deadman' a month later, when a listless Unforgiven main event ended with Undertaker hauling the 'Next Big Thing' through the prop stage like he was disposing of household waste.
As ineffective and insecure as he was at the time, Undertaker may have actually felt that way about 'The Beast;. 2002 needed a star like Lesnar, and Vince McMahon was clearly mindful of the fact. Few if any prior stars had been afforded such such a rapid ascent.
Thankfully, memories of the disappointing display washed away in rivers of blood. Both champion and challenger spouted claret in an evenly matched war (still a shock to see in an Undertaker match even then) en route to a dramatic finale that saw Lesnar triumphantly hold the title aloft atop the structure - the undisputed new king of the jungle.