10 Best WWE Survivor Series Elimination Matches Of The 2000s
8. Team Raw vs. Team SmackDown (Men's, 2016)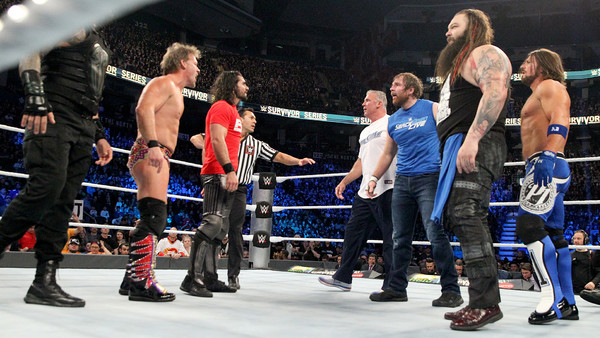 A mammoth affair that is well worth your time should you have a spare 52 minutes. It had everything: Bray Wyatt and Braun Strowman facing off, AJ Styles and Dean Ambrose disintegrating, the beginnings of tension between Kevin Owens and Chris Jericho, and Shane McMahon doing Shane McMahon things (before he became unbearable).
The elongated poses and constant staredowns in the first act almost begin to drag the bout to a halt before things kick into a new gear. One of the most stacked Survivor Series matches in recent memory put on a pulsating pace for the rest of the duration, and even Seth Rollins' half and half scarf of a t-shirt can't take the sheen off that.
This was back when Roman Reigns was garnering nuclear levels of heat before he was supposed to; every other member of this match got at least some cheers from one section of the audience or another, poor Roman just got the Hollywood Hogan treatment (except when The Shield briefly reunited and blew the roof off the Air Canada Centre.
Randy Orton was in this match, and I don't need to tell you how he did.