10 Disappointing Wrestling Reveals That Let EVERYBODY Down
8. Satnam Singh Sends The Crowd Home Shrugging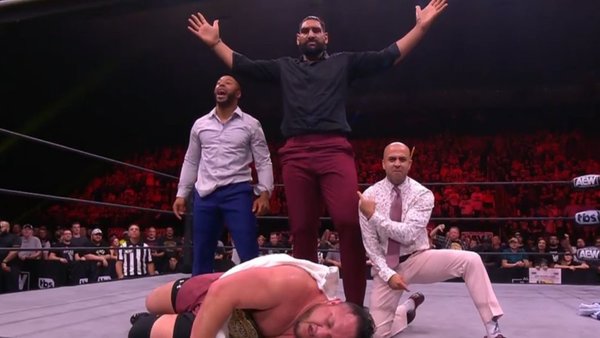 Pro Wrestling 101 dictates that, if you turn off the lights, you'd better have a known superstar waiting in the ring when they come back on. As such, when the arena went dark on the 13th April edition of AEW Dynamite last year, you could feel the anticipation emanating from the crowd. Which big name was about to become #AllElite?
Then the lights went back on and, to borrow a phrase from Todd Grisham, "It's...it's Satnam Singh".
Now, before anyone accuses us of hypocrisy for echoing the same phrase we lambasted Grisham for earlier, allow us to explain. Christian is a well-known and hugely respected figure in the world of wrestling, whose arrival merited genuine excitement. (Or at least a level of interest above "My Starbucks bill was 10¢ cheaper than I thought it'd be"). Satnam Singh, on the other hand, is a former NBA player with almost zero name-value as a wrestler.
Seriously, when the hardcore AEW fanbase finds themselves scratching their heads over a wrestler's identity, you can be sure you're looking at a true unknown.