10 Fascinating WWE SummerSlam 2002 Facts
2. Brock Lesnar Became The Youngest WWE Champion Ever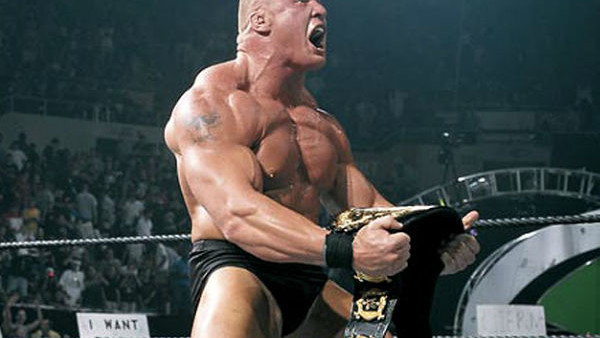 Please note that this entry concerns only the WWE Championship, and no other recognized World title under WWE's jurisdiction. The championship lineage of WWE's main prize dates back to 1963, it's not all that common to see a wrestler younger than their late-twenties end up with the belt. Lesnar, of course, is the exception to a lot of rules.
At the time Brock Lesnar won the WWE Championship from The Rock, he was only six weeks removed from his 25th birthday. His win broke the record set by Yokozuna in 1993, who was 26 years, six months old when he felled Bret Hart at WrestleMania 9.
Since Lesnar's win, only four men have captured their first WWE Championship in their twenties: John Cena in 2005, Randy Orton in 2007, Seth Rollins in 2015, and Bray Wyatt in 2017. None, of course, were quite as young as "The Beast Incarnate" when he reached the mountain-top.