10 Great WWE Matches That Didn't Have A Finish
8. Steve Austin vs Bret Hart - In Your House 14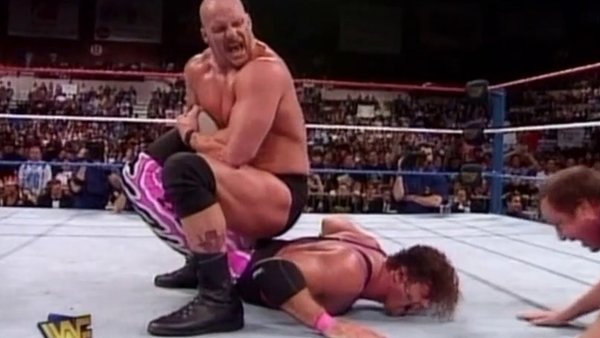 The third instalment of the Hitman/Rattlesnake trilogy can't hit the heights of the unexpectedly brilliant Survivor Series fight or the show stealing perfection of the WrestleMania submissions match, but it's Stone Cold vs Bret Hart - it's going to be good.
It's enjoyable to see the shifting dynamic between the two - post-'Mania, Hart is a full fledged heel (outside of Canada), and in embracing villainy, his promo game has come on leaps and bounds. In the ring he's just as measured and precise but far more brutal, utilising a chair early doors and stripping Austin's protection to go after his knee.
Austin, meanwhile, hasn't changed at all in his face turn; he's just as surly and violent, only now the crowd loves it. This is almost as out of control a brawl as the 'Mania match, and threatens to end with a neat reversal, this time with Hart impossibly trapped in the sharpshooter.
Eventually the Hart family makes the save for a DQ finish, but it's hard to be too disappointed - we get to see Austin overcome the odds in clearing the ring and walk out of there with his head (and middle fingers) held aloft.