10 Greatest Cage Matches On The WWE Network
9. The Hardy Boyz vs The Dudley Boyz - Survivor Series 2001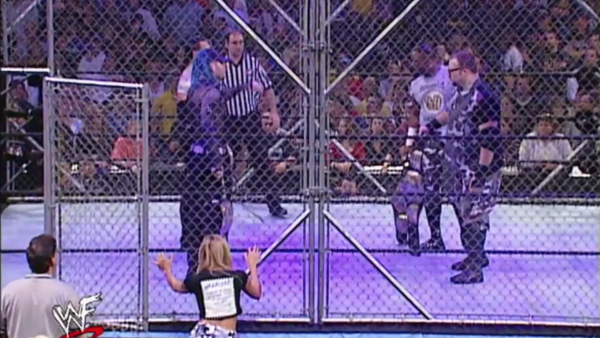 These two teams have been part of some ludicrous matches over the years, and it's no surprise that this is another scorcher. Great chemistry, brilliantly defined characters, and a wonton disregard for bodily safety combine to create a barnburner of sports entertainment: daffy good fun for the whole family.
The match takes place at the pay per view which was to cap off the abortive Invasion angle, and fittingly, it's a particularly silly event. The angle sees these venerable teams locking up once more to unify the two tag team belts, but we're not here for story, we're here for carnage.
The finish is deliciously stupid. Matt had already escaped and touched the ground. All Jeff needed to do was follow suit - but stood at the top of the structure, he simply couldn't resist flinging himself off, ultimately missing his target and getting pinned as a result.
It's a testament to the character that all of this is wholly believable. While you or I might be able to concentrate on the task at hand rather than leaping off the cage, the charismatic enigma simply can't - and that's why he's Jeff Hardy and we're not.