10 Greatest Hits Of WWE Hall Of Famer Jeff Jarrett
7. No Mercy At Nitro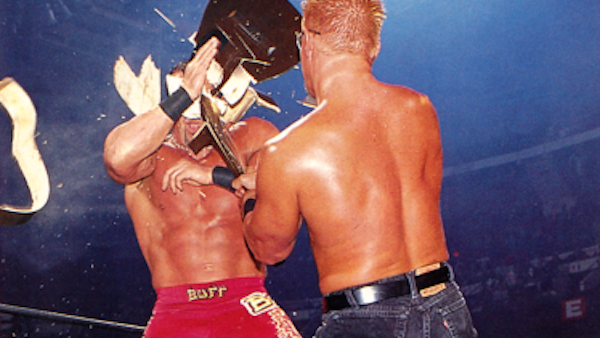 All that's fit to print has been espoused about the night Jeff Jarrett demanded $300,000 in carefully calculated back-pay to go out to the ring and lose the WWE Intercontinental Title to Chyna right as he was about to exit the company.
Reframed as extortion and blackmail in the aftermath, Jeff's ballsy farewell was achingly typical of a man born into a dirty dirty business. As the son of a promoter, he'd seen (and possibly even orchestrated) his share of bad deals, and was all too mindful of the financial ramifications of his controversial switch to WCW the night after the pay-per-view thanks to a contract renewal oversight by then-Vice President Of Talent Relations Jim Ross.
It took equal stones to turn up on Nitro the following evening with such a chip on his shoulder, especially considering what he had to follow.
Buff Bagwell and La Parka had just concluded one of the most business-exposing matches Vince Russo ever booked, before Jarrett reinstalled Russo's Sports Entertainment finish with the first of many guitar shots on Monday Nitro to 'The Stuff's unsuspecting head.
"How is it that last night I was in Cleveland Ohio wrestling on a pay-per-view and tonight I'm here LIVE on Monday Nitro?" Jeff asked, before grabbing his crotch and calling it "Stroke". Slap Nuts, indeed.