10 Greatest Wrestling Matches In Halloween Havoc History
9. The Midnight Express Vs. Tommy Rich & Ricky Morton (1990)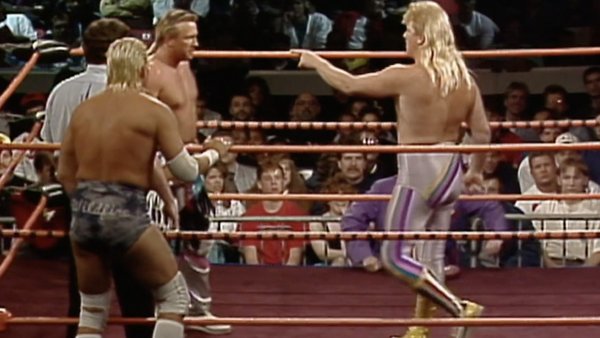 Rock 'n' Roll Express stablemate Robert Gibson was laid up with an injury here, so Morton instead teams with Tommy Rich against Jim Cornette's slick, slimy, abundantly entertaining Midnight Express.
Much of the story centres around the Midnights' superior tag team chemistry, and the combo of Bobby Eaton and Stan Lane dominate the majority of the match with innovative double team offence that has the 1990 crowd out of their seats. The late Eaton is particularly good here; he makes everything look fantastic, but was famously one of the safest, smoothest guys to work with.
The Midnights wind up the crowd while Morton tries to escape; the loathsome Jim Cornette chips in with the odd kick or swing of his tennis racket. Finally, the Southern Boys turn up in their Cornette costumes (how seasonal), allowing Morton to pinch the victory.
It's a great show opener, fast paced and crisp tag action from four guys who knew exactly what they were doing. It's barely aged a day. There's a better tag match further down the card, but this one's a great time.