10 Heartbreaking WWE Moments That Made You Cry
6. Tommaso Ciampa Betrays Johnny Gargano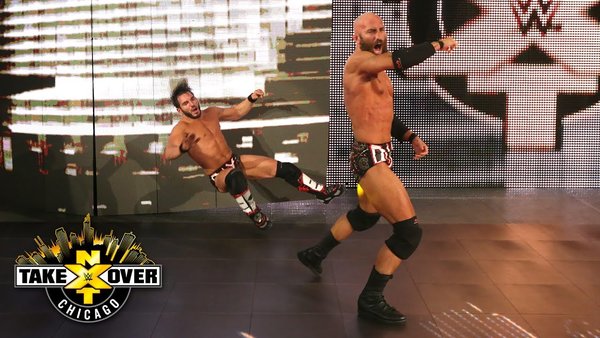 All good things must come to an end.
Tommaso Ciampa and Johnny Gargano joined NXT at the same time. As #DIY they entered the Dusty Rhodes Tag Team Classic tournament, then went on to become one of the most popular tag teams in NXT history.
It was a match made in heaven until Ciampa got injured and Gargano had to go it alone. The pair had been partnering for 18 months at this point and had held NXT Tag Team gold, so it was a refreshing change that it wasn't a breakup that pushed Johnny into the NXT main event scene. Sure, they'd competed against each other in the Cruiserweight Classic, but that was a contest between two friends.
An entire year went by until Tommaso made his return at NXT TakeOver: Philadelphia. Andrade "Cien" Almas had just beaten Gargano in a match for the NXT Championship, and as the DIY man was at the top of the entrance ramp, his tag team partner came out on crutches.
Except he wasn't as hurt as people thought. Ciampa laid into his friend with a crutch and turned heel.
Tag teams breakup all the time, but usually you can see it coming. Fans were shocked, then felt sad that #DIY were splitting up like that. It felt like a genuine betrayal. The pair have occasionally reunited, but it's never felt the same. This one still hits home hard, Tommaso.