10 Highest-Rated WWE Raw Segments Ever
2. Six-Man Tag-Team Main Event (10 May 1999) - 9.17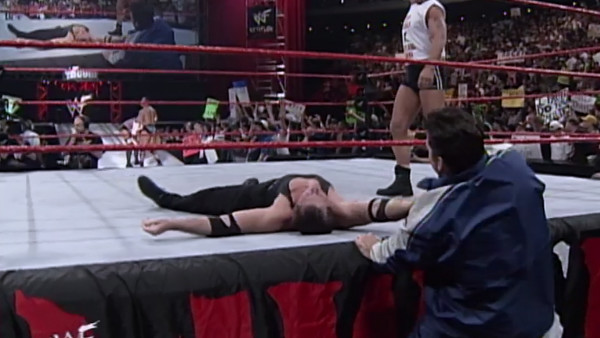 Or, maybe people flipping back and forth between Raw and Nitro were doing so to ensure they didn't miss the 10 May show's main event.
The WWF brought out all the big guns for this six-man tag-team match. Shane McMahon teamed with Triple H and The Undertaker to take on Vince McMahon (against his will), The Rock and Steve Austin. Shawn Michaels was installed as the special guest referee for good measure, and that all combined to convince a record-breaking audience they had to watch.
A 9.17 rating was the result, and that number remains one of the biggest individual segment scores in Raw history to date. In the 17 May newsletter, the Observer said the match was the first ever to top the 10-million viewer mark on cable television. They also claimed it was the "single most watched pro wrestling match in the history of cable television".
It wouldn't take the WWF long to beat their own record.