10 Matches WWE Cancelled From WrestleMania
9. Legion Of Doom Vs. Natural Disasters (WrestleMania VIII)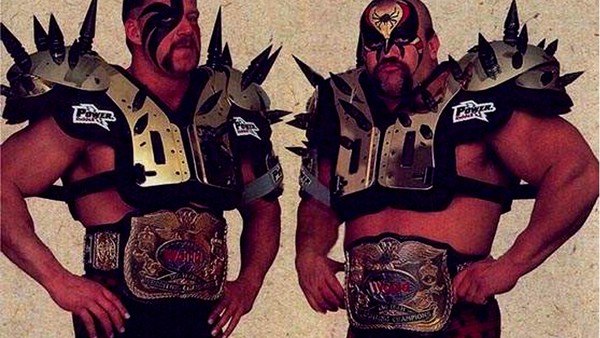 As aforementioned, the WrestleMania VIII Bulldog vs. Berzerker bout was cut the day of the show, but a couple of tag team matches were cancelled weeks before. In fact, they were even advertised in the WWF Magazine that hit newsstands weeks ahead of the big event. According to the magazine, the show's lineup of multi-man matches originally looked very different.
The Legion Of Doom were originally scheduled to defend the WWF Tag Team Championships against the Natural Disasters. But prior to WrestleMania, Hawk was suspended, leaving LOD's future in question. The titles were quickly transferred to Money, Inc. As a result, Money, Inc. vs. the Natural Disasters became the 'Mania tag title match.
The other ta -team impacted by this change was Hacksaw Jim Duggan and Sgt. Slaughter.
In the same WWF Magazine, Duggan & Slaughter vs. Ted DiBiase & I.R.S. was advertised for the show. With Money Inc. now filling LOD's spot, the other tag match changed to an 8-man featuring Slaughter, Duggan, Virgil, & The Big Boss Man vs. The Mountie, Repo Man, & The Nasty Boys.