10 More Controversial Times Wrestlers Went Off-Script
9. Xavier Woods Was Genuinely Pissed About The Superstar Shake-Up - WWE SmackDown Live, 2019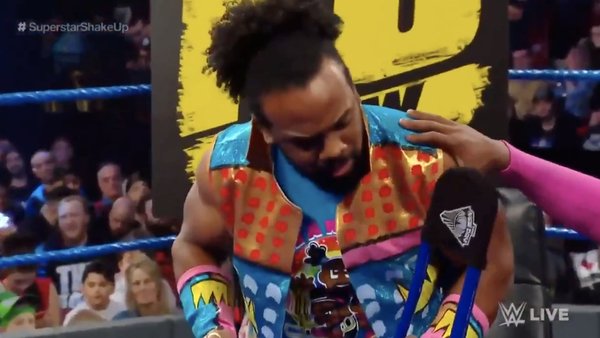 Not exactly known as one of the most difficult of performers to work with in front of or behind the camera, it'll likely come as something of a shock to hear that The New Day's Xavier Woods actually took to calling out his employers in the middle of a company ring back in April, 2019... sort of.
Hot on the heels of WWE deciding to thoroughly shake up its roster once again, the eventual King of the company rocked up on an iteration of the KO Show on SmackDown and let loose a rather brassed off little rant at the fact the majority of his UpUpDownDown pals had been drafted to Raw.
I shall continue until @MmmGorgeous is with us where he belongs! https://t.co/cbVzNcGy6V— Austin Creed (@AustinCreedWins) April 17, 2019
Far from simply being a throwaway outburst, however, Dave Meltzer would eventually note on Wrestling Observer Radio that "Woods' little rant was a shoot," with the multiple time Tag Team Champion not being happy in the slightest about how many of his gaming pals were shifted over to Monday Nights.
Sadly, though, despite Woods going out of his way to bang the drum for Tyler Breeze's return to SmackDown in particular, that particular Breezango face would remain in NXT until his sudden release in June 2021.