10 Most Obscure Wrestling References In Hip Hop Songs
The rap and wrestling worlds combine to give you hard lyrics and suplexes in abundance...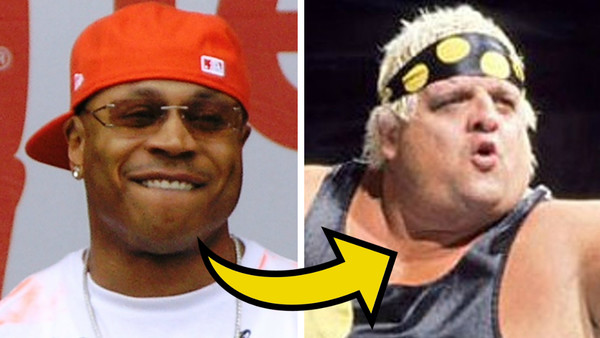 Wrestling and music have had a strong connection for decades,
From watching Cyndi Lauper work with former Wendi Richter to Little Richard singing "America The Beautiful" at WrestleMania X, they've gone hand-in-hand with each other for a long time. However, if there was a particular genre that has completely embraced the world of wrestling and its various colourful characters, it has been hip-hop.
Whether they're giving props to legendary wrestlers like Roddy Piper or Bob Backlund or more recent main-eventers like Randy Orton and The Undertaker, there's just something about the world of the squared circle that rappers love. Which is why hip-hop fans with a keen ear instantly notice those references and pop for them.
So which of our favourite rappers are secret - and not so secret - wrestling fans?
There are plenty of well-known tracks with entertaining references, but we found the ones that you might've missed or didn't even realise existed. From LL Cool J completely changing the WWF acronym to something nobody ever considered before he said it to Westside Gunn giving younger wrestling fans a history lesson on Bruno Sammartino, these are the rap songs that gave the ultimate shout out to the legends...
10. Run The Jewels - "Blockbuster Night Pt.1"
"I Jake the Snake 'em, DDT 'em in mausoleums."
Despite hip-hop allegedly being a young man's game, Run the Jewels have defied all the odds stacked against them to become one of the most loved rap groups in modern hip-hop history.
El-P and Killer Mike appeal has always been to the type of fans who love the iteration of rap that focuses on witty punchlines, clever word plays and hilarious braggadocios claims and "Blockbuster Night Pt. 1" is a perfect example of that.
During the song's third verse, the duo go back-and-forth with each other, trading lines with each other effortlessly. Using his bars to create humorous depictions of cartoonish violence, Killer Mike references WWE Hall of Famer, Jake Roberts, explaining how he uses Robert's finisher to demolish any other rappers who might threaten him. While it's a relatively simple line, anyone who loved Jake The Snake will struggle not to smile at the shout out.