10 Most Notorious Stephanie McMahon Urban Legends
10. Her Dress "Accident" At WWE Payback 2014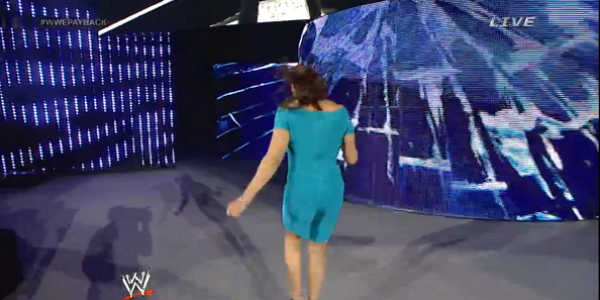 Story:
Earlier this year at the June 1 Payback PPV, Stephanie was in the ring doing a segment with Brie Bella and Daniel Bryan. After upsetting Brie like she usually did, Brie slapped Stephanie in the face. With the crowd chanting "yes" repeatedly, an embarrassed Stephanie left the ring and ran backstage. The camera showed her heading to the back. When quickly hustled to the back, there was a streak on the back of her dress. Following the apparent streak on her turquoise dress, fans were wondering if she actually peed herself during the segment. It was an unusual spot for a mark like that, so some fans actually believed it to be true. It was never addressed on WWE TV and as far as we know, Stephanie hasn't talked about it either.
Why People Believe It:
There's a difference between the rest of the dress and that particular part. People that saw that might believe that she did wet herself.
Should We Believe It:
No. It was just a rumor from people that didn't realize that was just part of the dress to give it some shine. The sad thing is there are all kinds of "Stephanie McMahon peed herself" videos and images out there that some stupid people are going to believe it.
John Canton
John wrote at WhatCulture from December 2013 to December 2015. It was fun, but it's over for now. Follow him on Twitter @johnreport. You can also send an email to mrjohncanton@gmail.com with any questions or comments as well.
See more from John