10 PPV Quality Matches WWE Gave Away For Free On Weekly TV In 2021
With the dust having settled on 2021, what big bouts did WWE give away for free?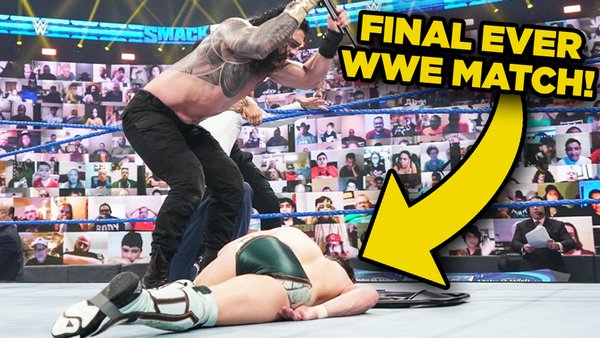 Do you know why WCW died? Okay, there is a huge list of reasons why that promotion bit the dust. Books have been written about it, after all. In the interests of brevity, one of the main reasons the company folded was because it kept giving away big-time matches for free on television. Instead of building up to a time and place where fans would have to pay to see a bout, money matches were thrown out on episodes of Nitro without a care in the world.
WWE isn't going the way of WCW anytime soon, but it is alarming how the winning side of the Monday Night Wars has morphed into the promotion it vanquished. The dust has well and truly settled on 2021, another fascinating year in professional wrestling, and WWE's WCW impression was fine-tuned even more. Did that mean lots of money matches given away on free TV?
Yes, yes it did. In a desperate attempt to stop a rapidly declining audience from, well, rapidly declining further, WWE's creative team mortgaged its future on short term gains. Par for the course, really. Potential pay-per-view main events were given away on random episodes of RAW and SmackDown, achieving nothing other than rendering the monthly events borderline pointless.
Of course, it is important to be positive too. WWE gave fans some incredible matches for free in 2021, and that should be celebrated as well. Still, make them mean something, please...
10. Jordan Devlin Vs. A-Kid - NXT UK August 5
It is sometimes easy to forget that NXT UK exists, such is the lack of effort that WWE puts into marketing the brand. All the momentum generated by Pete Dunne and Tyler Bate all the way back in 2017 has been swamped by a surplus of care and attention. Sure, the pandemic hasn't helped, but the main problem is internal.
All of that is a massive shame because NXT UK has a roster of incredible workers putting on seriously good matches every single week. The high-point of 2021 was a 30-minute Ironman match between Jordan Devlin and A-Kid, a match won 2-1 by the Spanish Sensation. Former NXT Cruiserweight Champion Devlin controlled the first half of the match, picking up the first fall at the 10-minute mark by forcing A-Kid to tap out to a Boston Crab. A-Kid wasn't to be denied, however, collecting two tap-out falls of his own in the second half.
No matter the show, this was one of the best WWE matches of 2021, full stop. Devlin has proven himself as a top tier worker time and time again, while A-Kid has developed into one of the best in his own right. This 30-minute Ironman match could easily have found a place on any PPV, but here it was, on an episode of NXT UK at the beginning of August.
A-Kid is a terrible moniker though. Seriously.