10 Things We Learned From WWE's Mae Young Classic First Round
9. Abbey Laith Needs A Bigger Role (And Jazzy Gabert Needs A Contract)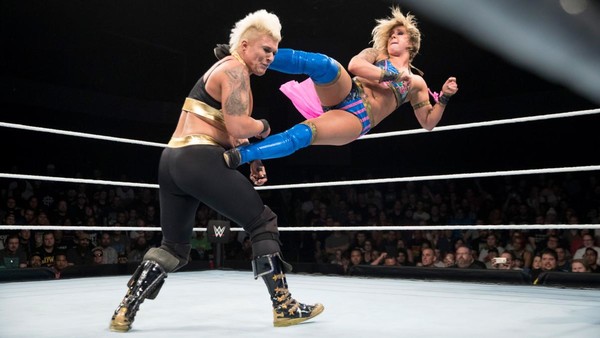 Abbey Laith and Jazzy Gabert tore it up in the first episode's main event, turning Full Sail University into a cavern of noise with their fast-paced, hard-hitting slugfest.
It started with a seemingly overmatched Laith blitzing the larger Gabert, but she was quickly cut off, with Jazzy throwing Abbey around the ring with the greatest of ease. In the end, Gabert kicked out of a spectacular senton, then laid waste to Laith with some nasty ground and pound, but soon found herself rolled into a cradle for the three count, making this the night's biggest upset.
Both competitors looked excellent, and the bout asks the question of why Laith hasn't featured more prominently in NXT. The former Kimber Lee has been under WWE contract since January, but has competed in just three televised bouts, one of which was a battle royal. Here's hoping this performance earns her a bigger push in the post-Asuka landscape.
Gabert, meanwhile, is a completely unique performer who connected with the Full Sail crowd immediately. Her MMA/power-based hybrid style stood out as strongly as her imposing look, and she should be one of the first people WWE a extend contract offer to after the tourney.