10 Things WWE Wants You To Forget About WrestleMania 37
8. Sami Zayn Got Cheered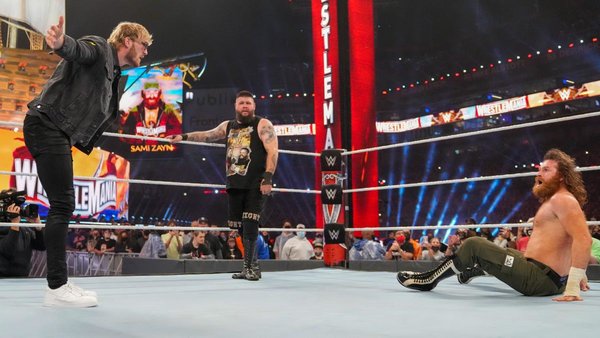 Wrestling fans will always side with a full-time wrestler over some absent part-time act or minor celebrity. A full-time presence and sense of belonging in the industry matters to hardcores, which is why YouTuber Logan Paul was booed for pushing Sami Zayn to the canvas on Sunday night.
'How dare he put his hands on Sami! He's a dick, but he's our dick!'.
That's the kind of mentality outsiders are dealing with. Knowing that, but not wanting to eliminate the push from their booking, WWE had Kevin Owens rattle Paul with a stunner in the aftermath. This, predictably, raised a cheer from the Tampa hordes, but it doesn't change the fact that Logan's shove was supposed to be applauded too.
That was just never going to be the case. Zayn is so outrageously entertaining as a delusional, conspiracy theory-daft heel that company fans will always pick him over Paul. That backing for the full-timer caused this "WrestleMania moment" to fall a wee bit short.