10 Times Vince McMahon Lost His Damn Mind
7. Million Dollar Mania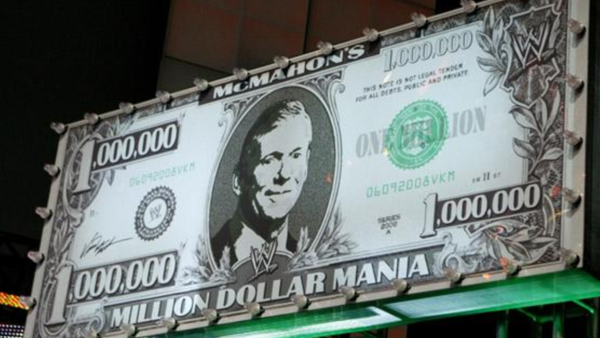 Following on from the previous year's shameful fake death stunt, ol' Vinnie Mac looked to one-up himself with an even more shameless attempt to grab viewers: Million Dollar Mania. In theory, the allure of free money would surely attract a casual audience; in practice, the stunt was ratings repellent.
There was no skill involved in winning either. Fans simply needed register their number online, wait for a callback and recite the not-so-secret password ("WWE Universe"). It was essentially Who Wants To Be A Millionaire, without any knowledge, drama or even attendance needed.
With his specs perched on the end of his nose, McMahon slowly dialled the winning numbers. So... damn... slowly. To make matters worse, the first caller had a Rick Astley dial tone, leaving a confused Vince Rick-rolling in bewilderment.
Instead of nail-biting viewing, the segments were like watching a drunk entering their credit card pin. Aside from Vince laboriously thumping in digits, each expensive segment was laden with more technical issues than Cyberdyne on Judgement Day.
For the winners, the call itself was no doubt spectacular. Sadly, for the viewers at home, in attendance and behind the camera, it was about as enthralling as a sloth's diary.