10 Times WWE Totally Changed Its In-Ring Style
10. Randy Savage Vs. Ricky Steamboat - WrestleMania III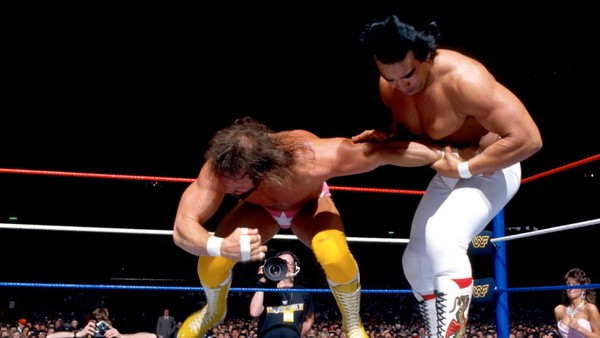 A sacrosanct match that, while incredible, is perhaps more remarkable in context.
The mid-'80s WWF boasted some tremendous workers, particularly in the tag team ranks, but a match of this technical quality and profile was virtually unprecedented; the prevailing fashion was of heavily muscled men overcoming sneaky or elephantine heels in hair-shaking audience begs. The WrestleMania III Intercontinental Title match paved the future in content and approach.
Worked with a sense of furious tension and advanced craft, it never relented from a white-hot opening salvo. Deftly incorporating the stark moral contrasts and theatrical outside shenanigans that defined the WWF style, this was an unforgettable and electrifying pure wrestling/sports entertainment hybrid. Steamboat's strategy to lull Savage into those beautiful arm drags - contrasted with Savage's deceit to pummel his back with those running knees - remains a total joy, all these years later.
Moreover, Savage and Steamboat essentially rewrote the administration of a professional wrestling match by laying out move for move ahead of it in a practise that, while the norm now, was frowned upon as a betrayal of wrestling's extemporaneous performance art spirit.