10 Times WWE Was Legitimately The Best Wrestling On The Planet
9. The Rock Vs. Hulk Hogan (WrestleMania X8)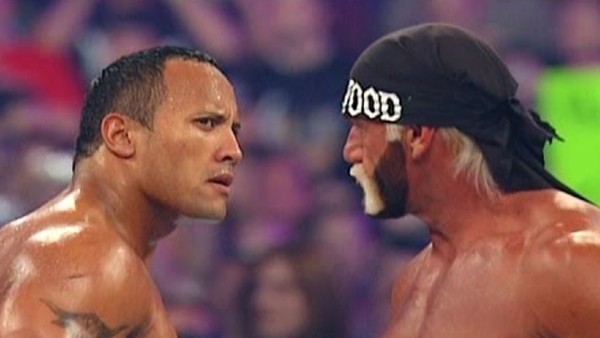 WrestleMania X8 wasn't even that good of a show.
Stone Cold faced Scott Hall in a tepid bout. Edge and Booker T fought over some shampoo. The hardcore title got hot-potatoed for a bit. Lita got pinned by Jazz of all people. And the team of Billy and Chuck somehow managed to go over in a match that involved the APA, the Dudleyz, and the Hardyz.
But nobody remembers Wrestle<ania X8 for any of that. Hell, nobody even remembers WrestleMania X8 for its main event, or even Undertaker's match against Ric Flair. Instead fans remember the show for one match, one moment, the staredown, that staredown, with two icons from different eras facing off. Hollywood Hogan, the heel of WCW, getting a hero's welcome in Toronto for the first time since Wrestlemania VI. Meanwhile The Rock a heralded figure regardless of his alignment through the Attitude and Invasion eras found himself in a sea of hostility.
The two looking at each other in front of a screaming SkyDome was a moment that only WWE could provide, and the two talents even took the "bizzaro" effect that Canada always adds into account, changing their match on the fly so that Rocky could play into a heel style of work while Hogan went full face, even hulking up.
This moment, this match, it was simply something that no other company on earth could have ever hoped to muster, even on their best day.