10 Under-Appreciated WWE September PPV Matches
9. The Hardy Boyz Vs. Edge & Christian (Unforgiven 2000)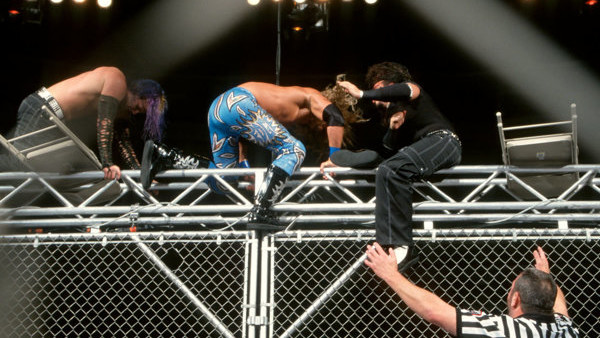 The Hardyz and Edge & Christian were known more for their ladder-based encounters, but this cage match from Unforgiven 2000 shows that the two teams had amazing chemistry period.
One month after losing in their home state in the iconic TLC 1 at SummerSlam, the Hardyz went into the match as the underdogs, with Edge and Christian always managing to escape with the tag team titles by the skin of their teeth. Now forced into a steel cage, the two teams had to forego the high-flying mayhem of their ladder matches in favor of a gritty, desperate battle for escape.
This match succeeds in storytelling, as Jeff escapes the cage early, making it a 2-on-1 handicap as Matt tries to dodge Edge and Christian's assault. Jeff, meanwhile, tries whatever he can to get back into the cage to help his brother. And even though it's not a ladder match, Jeff Hardy can't help but use one, as he breaks one out to help himself climb the cage. Edge and Christian even get to break out their signature chairs for con-chair-to spots. And, of course, Jeff gets to do a swanton off the cage because Jeff Hardy laughs at death.
Ultimately, the Hardyz would win the tag titles and continue the white hot streak of quality the tag division in 2000 was on. If all you've seen of this feud are the TLCs, you should definitely check this one out.