10 Ways SmackDown Can Save WWE
9. Actually Rebuild Tag Team Wrestling Underneath The Usos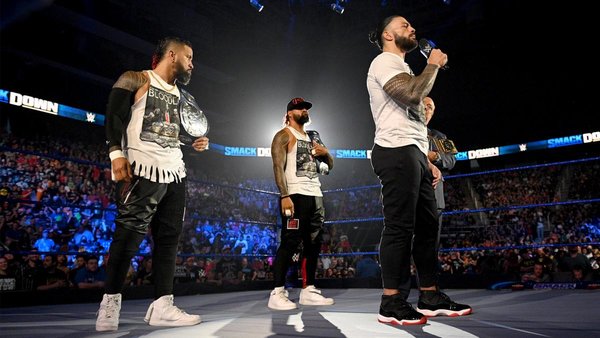 On the September 20th edition of Monday Night Raw, special guests from SmackDown The Bloodline took on The New Day in a match that brought together the WWE and Universal Champions for the first time physically since Big E snared the red brand's top prize.
All of this existed to pop a rating for a show sure to be savaged by Monday Night Football most weeks, but ostensibly it served as a way to test E's mettle against the 'Tribal Chief' whilst reminding audiences of that glorious summer 2017 series between the teams.
In those flashes, tag wrestling was elevated all over again. It's staggering that Vince McMahon will always think so little of the form because he's such a tight*rse, not least when his ailing red brand has been uplifted more by RK-Bro than just about anything else this year.
SmackDown's had an opportunity to show the world how it's done with Jimmy and Jey, but the cycle of loser opponents doesn't make the division feel competitive. Keep those strong, and the trickle down effect will have the best possible impact on every tag team still swimming against the tide.