10 Worst WWE Survivor Series Moments Ever
8. The Jam-Packed 'Deadly Game' (1998)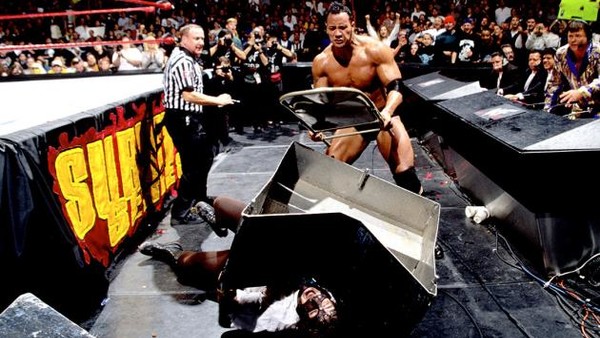 On the surface, it was a fine idea for the then-WWF to present a tournament for the vacant WWF Heavyweight Title at the 1998 Survivor Series. The tournament was dubbed 'Deadly Game', but it was far better in theory than it was in execution. The main problem was that there were simply too many matches on the card.
There was little room for any of the bouts to breathe. At least the elimination style of the tournament would lend itself to the Survivor Series name, but there was too much happening. There were 14 entrants, and the sheer volume of matches needed badly hampered the show. Thankfully, The Rock and Mankind were able to construct a worthwhile main event, but that wasn't before Rocky pinned The Big Boss Man in a matter of seconds.
Duane Gill was also an entrant, and his 30 second bout with Mankind was completely unnecessary. Matches like that hurt the event overall, and it would have been better served had the tournament been whittled down to around eight competitors. The Quarter Finals, Semi Finals and Final itself were enjoyable, but the First Round was a complete joke and should never have been booked.