10 Wrestlers That Told You They Were Pissed
The Undertaker, Charlotte Flair, Triple H and half the WCW roster telling us how they REALLY feel.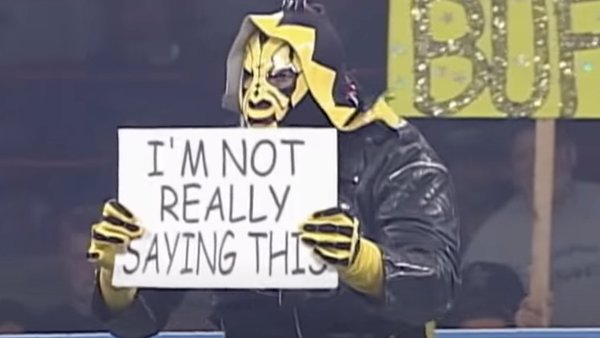 Wrestlers were so miserable on and off screen in the latter days of WCW that it became genuinely impossible to work out exactly who was putting on the boo-boo face for the cameras and who was just legitimately sick of their life working in such chaos.
Buff Bagwell and La Parka were involved in two matches between 1999 where both were designed to mock their own booking, whilst effectively commenting that all of this was scripted entertainment rather than simulated sport anyway. On the October 18th '99 edition of Nitro, Buff Bagwell grumpily put himself in position to take a kick to the head because this sh*t's all fake apparently, and a random Thunder rematch the following march saw the masked star hold up signs disavowing an over-the-P.A promo gimmick, begging the question WCW never asked around this time - why do it in the first place?
It was all too common as the wheels started falling off. This was the organisation that had done foreshadowed Bill Goldberg not taking another wrestler's finisher due to personal grudges. The company that had booked the old guard against "New Blood" and made the latters the heels. The place that had Bret Hart served to them within weeks of him spitting in Vince McMahon's face, then failed to get the best out of the best. And 'The Hitman' wasn't the only one to suffer such indignity...
10. Eddie Guerrero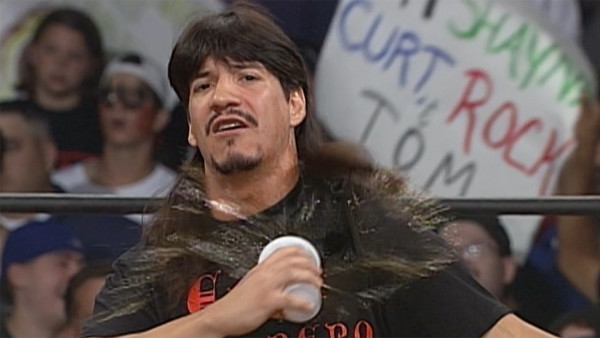 A worked shoot that - as is so often the case with these things - appealed to far too few people to land in the way WCW would have liked, Eddie Guerrero throwing coffee on himself live on an August 1998 edition of Nitro was supposed to be a turning point for a stalling run in Atlanta.
Stemming from a real backstage blowout between the former Cruiserweight Champion and Eric Bischoff that resulted in Guerrero being splashed with coffee, the speech was neither one thing nor another. As an in-character authority figure within the New World Order, Bischoff was too much of an on-screen target for the promo to register as real. Meanwhile, Guerrero did such a listless job of delivering the verbiage that it couldn't possibly scan as an attempt to kick off a feud either.
It's a pity - 1998 found Guerrero just two years away from 'Latino Heat' and a few more back from a perfectly pitched run as WWE Champion. He was a trusted all-rounder by then, but the 90s boom period had no place for impeccable pro wrestlers that were this average at the verbals. It's little wonder he was annoyed with life down south, but equally no surprise that this performance wasn't going to change things.