10 Wrestlers Who FREAKED OUT After A Loss
9. Jeff Hardy Loses It Over The Length Of His Brotherly Loss - WWE WrestleMania 25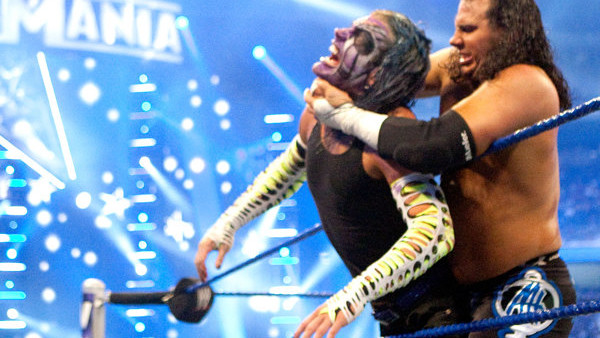 Getting to share The Grandest Stage of Them All with your own flesh and blood had the potential to be a career highlight moment for The Charismatic Enigma at WrestleMania 25. Only, by the time the dust had settled on Jeff Hardy's Extreme Rules grudge match with brother Matt, it was evident that Brother Nero wasn't best pleased with one specific element of his losing showing.
As revealed by Jeff himself during a sit-down with "Stone Cold" Steve Austin on his Broken Skull Sessions show, Hardy recalled that night being the only time things got heated between himself and his former boss Vince McMahon.
In Hardy's words (H/T SEScoops):
"[I] think he kind of liked it. He saw how mad I was because I was like throwing stuff [and I was like] 'can't believe we didn't get do that stuff we wanted to do.' We did plenty. More than enough. But still the passion within me really ignited that night after the match. I was really upset."
Though, as Hardy noted, the pair were still able to fit a sickening double table bump and a ladder leapfrog fall into their brotherly bout, the fact the lads only got 13 minutes to shine clearly didn't sit well with this extreme entity.