10 Wrestlers Who Hated Working Together
1. Shawn Michaels & Bret Hart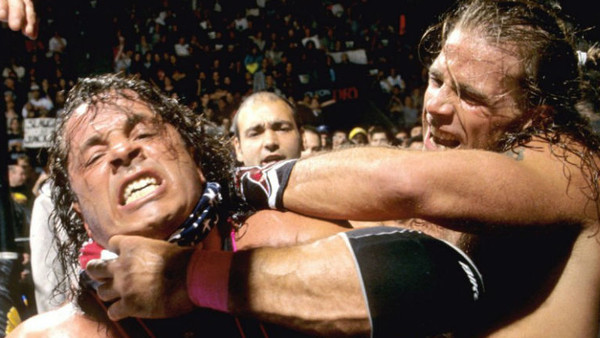 Bret Hart and Shawn Michaels had one of the most notable backstage rivalries in WWE history, but they were at least able to bury the hatchet. On January 4, 2010, Bret returned to WWE television for the first time since the Montreal Screwjob. His intentions were to confront Hart and Vince McMahon over the incident, and he and Michaels shook hands to finally end 12 years of bad blood.
Back in the 1990s, Hart and Michaels were WWE's two biggest stars. Both were genuine company cornerstones, and among the best wrestlers that the sport has ever produced. Sadly, they detested working with one another, and instead of collaborating to produce multiple great matches, both spiralled towards disdain.
Make no mistake: Bret Hart and Shawn Michaels hated each other. Theirs was a struggle for alpha male supremacy in WWE, and it manifested not only in harsh personal attacks, but also in the ring. The infamous Screwjob saw it hit fever pitch, and after Hart was screwed out of the WWE Championship on home turf, Michaels effectively became his mortal enemy.
The seeds were sown long before that, though. The duo had a classic Iron Man match at WrestleMania XII, but HBK rubbed Bret the wrong way by yelling at the referee to remove him from the ring afterwards. Later, Shawn alleged that Hart was having an affair with Sunny, and after Bret decided to give Shawn the cold shoulder, HBK effectively cut him off.
Neither man emerged from the rivalry smelling of roses, but ultimately the feud served as a catalyst for the Attitude Era.