10 WWE Moments That Weren't Supposed To Happen
10. Matt Hardy Slips Trying To Break Up A Pin (Raw, 11 September 2017)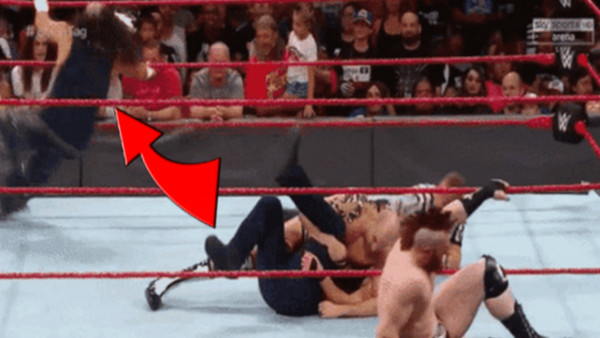 Where's that Benny Hill music when you need it? It's the perfect musical accompaniment for the 11 September 2017 episode of Raw. In the main event of that show, The Hardy Boyz teamed with Dean Ambrose and Seth Rollins to take on The Bar, Luke Gallows and Karl Anderson. Good match, but with one hilarious gaffe.
At one point, Matt temporarily turned into a new-born deer.
Hardy was unable to keep his feet as he raced into the ring to break up a Cesaro pinfall on Ambrose. As a result, the poor referee had no choice but to pause his count at two (this wasn't the intended finish) and wait on Matt to make the save. For some reason, he was another few seconds late despite being upright.
Don't get us wrong, this kind of botch can happen to anybody, but Hardy really didn't help his cause by flopping around near the ropes. Even Ambrose raised his head to see what Matt was doing.