17 Things You Probably Missed From WWE SmackDown (Sep 17)
Seth Rollins teases a change in look for Edge; Paul Heyman gets sexual; WWE ribs Kane.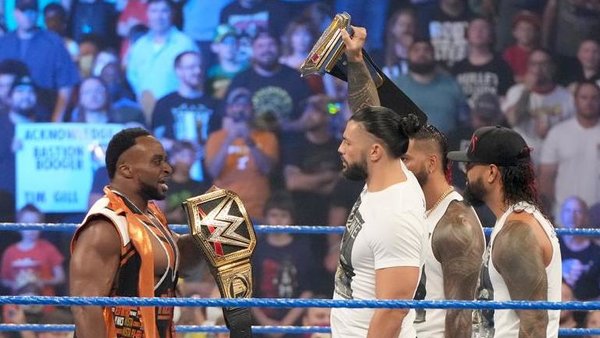 Big E vs. Roman Reigns is finally happening, but not as expected.
WWE all-but-confirmed that E vs. Reigns will be one of the major Raw vs. SmackDown/Champion vs. Champion matches at Survivor Series this November. Before that particular pay-per-view, ye olde 'Tribal Chief' has a date with Finn Bálor's 'Demon' at Extreme Rules and a showdown with Brock Lesnar at Crown Jewel in Saudi Arabia.
You couldn't have missed Big E talking about Survivors if you were watching this week's SmackDown - the new WWE Champ heavily emphasised that match during another one of those comedic backstage bits with Paul Heyman. Y'know what you couldn't missed though? Yep, you guessed it: 17 hidden gems from the two-hour weekly, and they're all here for your viewing pleasure.
SmackDown featured kids named after Vince McMahon (yep), Kane returning and getting ribbed by Michael Cole, Heyman uttering words you probably never thought you'd hear, WWE ignoring Bianca Belair's real maiden name, Seth Rollins teasing a repeat of last summer's "Horror Show" and a depressing commentary on the state of the women's division.
Dig in...