20 Best Wrestling Tag Team Matches Ever
5. Chris Benoit & Chris Jericho Vs. Steve Austin & Triple H (WWE Raw - May 21st, 2001)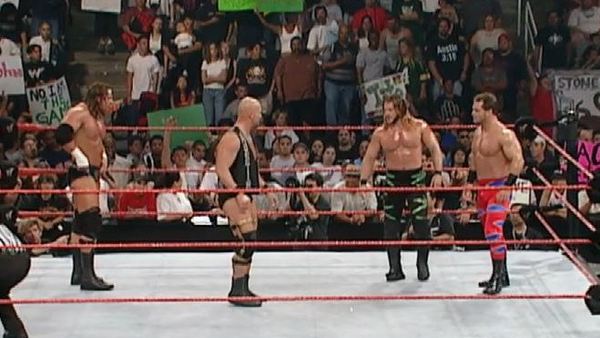 Hidden away on the WWE Network lies the most underrated tag team match in the company's history. Steve Austin's 2001 heel turn was a disaster, but at least it produced this gem of a bout, in which he and his Two-Man Power Trip partner Triple H put their Tag Team Championships on the line against Chris Benoit and Chris Jericho.
It was a world class tag bout, and one that saw uneasy allies Benoit and Jericho play perfect underdogs. The two Canadians had already wrestled each other on multiple occasions, but they showed outstanding chemistry as a double-act, despite spending much of the match on the backfoot. Triple H and Austin kept cutting them off with their dirty, heelish tricks, amplifying the drama throughout, and placing the crowd firmly on the two Chris' side.
You'll struggle to find a better 14 minutes of action in the WWE archives, and while Benoit & Jericho overcame the odds to win, the match ended on a bittersweet note. Triple H tore his quad, ruling him out for the rest of the year, and preventing him from participating in the forthcoming Invasion angle. Regardless, Jericho & Benoit vs. The Power Trip is a must-see classic.