3 Ups & 3 Downs From AEW Rampage (Mar 31)
Downs...
3. Harsh 'Down', But…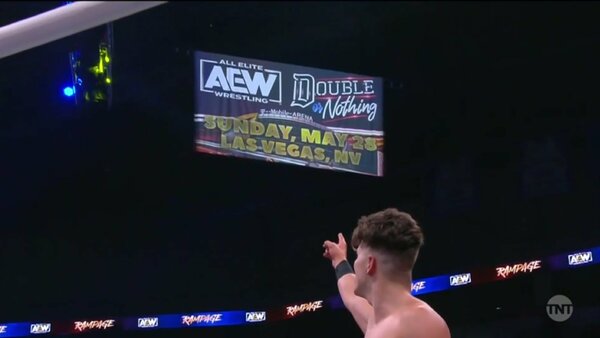 Think of this as a soft 'Down', because it might be considered harsh by some, but...is it really wise to go around pointing at signs during WrestleMania season? That's become a staple over in WWE, so it was odd to see Sammy Guevara point at a Double Or Nothing banner like he'd won the Royal Rumble.
It didn't exactly have the same impact as someone gesturing towards WWE's big neon sign. This sort of thing might be one to avoid for Tony Khan in the future; Double Or Nothing is regarded as AEW's own 'Mania by fans, but Guevara pointing towards some flag that needs an iron didn't feel very grand.
Again though, many won't have a problem with it.
Is this the biggest deal? No, not at all, but it just stood out because of the timing. All Elite must be mindful not to look small time to anyone who happens to be guzzling up wrestling content due to 'Mania fever. This smacked of the sort of thing that'd make casuals chortle.