3 Ups & 5 Downs From AEW Rampage: Slam Dunk (Feb 17)
Keith Lee returns with a new look; AEW becomes the NBA; Jade Cargill needs something fresh.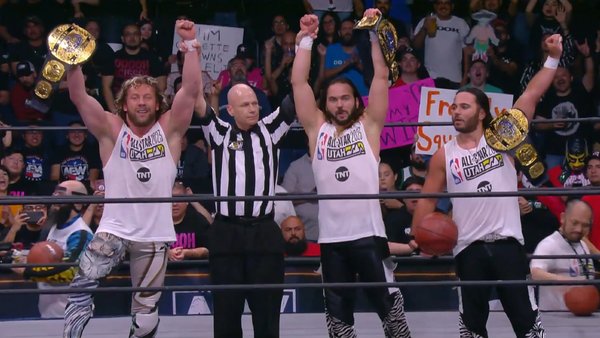 Hey, did you know there's some basketball on this weekend?
Cross-promotions are clearly nothing new in the world of professional wrestling, but subtlety and this biz rarely go hand-in-hand when they should. Why run some simple ads for the NBA during those relentless pic-in-pic ad breaks when you could literally have wrestlers play ball mid-match, eh? AEW's decision to do that badly hampered this week's Rampage.
This should've been an overwhelmingly-positive broadcast for All Elite. Kenny Omega and The Bucks were in the house to work some six-man action, two young lions were squaring off elsewhere, and they were even about to blow off the fun mini-feud between Dustin Rhodes and Swerve Strickland by turning attentions to a major return instead.
Sadly, things didn't exactly go as planned. Only one of that hot trio of matches had any real merit, and Tony Khan couldn't resist plugging any remaining time with yet another TBS Title scrap that happened with zero build up.
There were positives, but this was not the "Slam Dunk" AEW wanted it to be. Here's all the good and bad from it!