4 Ups & 6 Downs From AEW Dynamite (1 Mar - Review)
Downs...
6. What Were The Elite Doing?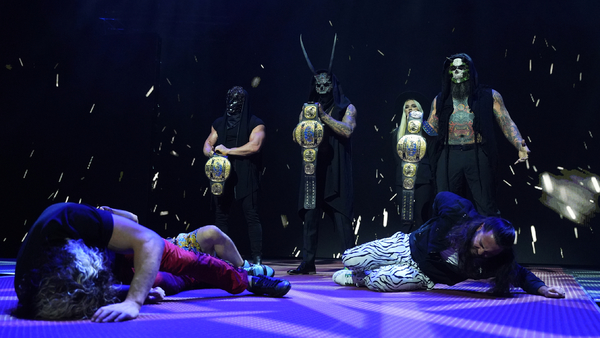 After the opening match, the Elite made their entrance for an unadvertised appearance.
Presumably a promo segment booked to hype their match at Revolution, this wasn't clarified; before the purpose could reveal itself, the lights went out and the House of Black lurked behind them before unleashing a beat-down. An admittedly striking visual, yes, but the scene was too sudden and contrived to mean much at all. It was easy enough to infer what was happening here, unless you're as thick as pig sh*t, but it didn't work because the House of Black didn't spoil anything. There was no sense of anticipation to ruin.
The challengers stole the Trios titles and, deeper in the show, Malakai Black mumbled something about fear being more powerful than flesh before declaring that the Elite have already lost. Because they're scared.
Of what? The same attack that the House of Black have executed for a couple of years during which they've mounted a 50/50 record?
The House aren't menacing, this phoned-in angle did nothing to resolve that, and this programme continues to be weirdly, unforgivably uninteresting.
It's the Elite Vs. the House of Black. Think of the wrestlers involved in it. This should be polarising in the extreme. Some people should be besotted by it, where others should be ripping the piss out of it. Instead it just...exists. The match will be incredible. That will have nothing to do with the 156 hours of episodic TV that AEW has to play with a year.
The "indierrific" tag does not apply to the Elite. It's a bad take - except it isn't here.