5 Most Insane Things Happening In Wrestling Right Now (Nov 2)
4. At Least He's Being Honest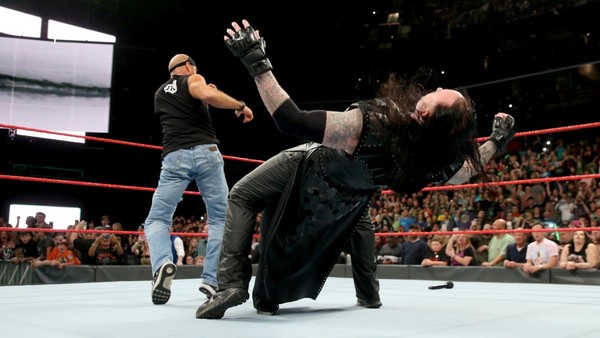 On Monday's RAW, The Undertaker cut…a promo, in which he, with a commendable honesty, let us all know what we're in for on Friday at In Your House: Triple Beheader.
"The Brothers of Destruction will take the beaten, battered souls of D-Generation X for the first time, and the last time, to the fiery gates of hell."
"Gates of hell" was a bit much. Aren't you meant to be putting Saudi Arabia over, 'Taker?
He continued:
"It won't be swift. It will be slow, agonising pain."
We watched the main event of Super Show-Down. We know this already, but good on 'Taker for reminding us to watch the show on delay, catch the spectacular entrances, and skip to the finish.
Hilariously, the YouTube clip of this segment is titled 'D-Generation X get the drop on the Brothers of Destruction".
"Get the drop on."
It probably wasn't the best idea to put over the one team in that match that doesn't have to use death semantics with death semantics.
'Triple H lures unwitting man into a consul-…to the entrance ramp, and his partner performs a predetermined wrestling move on a fellow performer."
Jesus, WWE. You're amid a PR sh*t-storm. Be more careful.