5 Ups & 3 Downs From WWE SmackDown (Oct 15)
Downs...
3. Unhappy Talk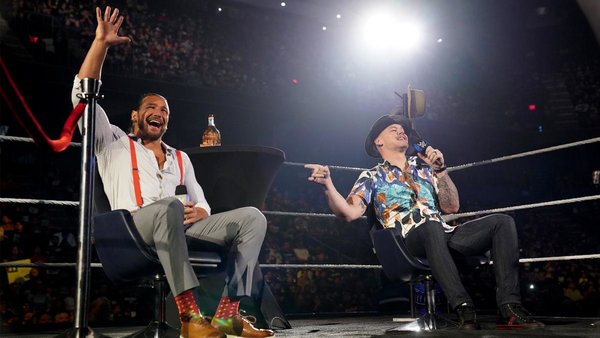 Questions must be asked about what SmackDown's writers want to achieve with Happy Corbin and Madcap Moss. Are they a tag-team? Is Moss only there to crack lame dad jokes and help Corbs win some matches? Will Happy challenge Shinsuke Nakamura for the Intercontinental Title at some point.
It's anyone's guess.
The latest WWE talk show segment (in a long, looooooong line of them) was rather lame. This week's 'Happy Talk' was totally pointless - Kevin Owens, who has been feuding with the lads recently, didn't show up, and it now looks like Corbin will make a pass at the IC belt after all. Either that or, yeah, where is this going exactly?
Nothing actually happened during this segment. Corbin and Moss offered some sh*te jokes, then Naka and Rick Boogs came out to jam at the announce desk. It's almost like somebody said, 'Uh oh! We've got that extra 30 minutes to fill!' and quickly scribbled this down on a sheet of paper.