5 Wrestlers Who Could Be Saraya's Major Secret AEW Partner
4. Naomi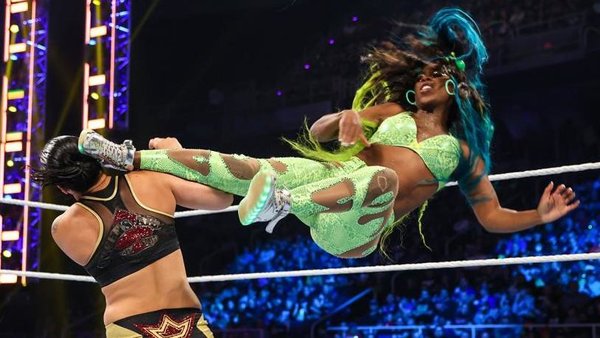 While not as big a star as Sasha Banks - which might, cruelly, haunt her in the future, since they are inextricably linked together at this point - Naomi would be an astute pick-up if she is revealed to be the mystery partner.
Naomi went viral for her superb escapologist performance in the 2020 Women's Royal Rumble match. A good booker could have marketed that very effectively. A competent booker would have at least...booked her in storylines of any significance after the fact.
Vince McMahon was neither of those things.
Naomi last impressed in a blistering, well-received effort opposite Charlotte Flair in February of this year, which somehow was an aberration. Elsewhere, she was used as Sasha's sudden friend to give the former something to do at WrestleMania. It is with some irony, then, that the friendship became so strong that they backed one another to leave the promotion outright.
She'd certainly generate a pop, and there's certainly untapped potential, but realistically, it isn't cynical to forecast pessimism regarding virtually any prospective development in the Women's division. The fanbase has long since been conditioned to receive it as an afterthought of relatively little importance.
Naomi was recently papped alongside Jade Cargill, when they attended an NBA game between the Atlanta Hawks and the Oklahoma City Thunder together - but since Jade has quietly bemoaned the lack of opportunity women have in AEW to wrestle "five star matches", this association might actually dissuade Naomi from becoming All Elite.
Tony Khan is fond of the double-your-fun pop - he debuted Matt Hardy and Mr. Brodie Lee on the same night, and also Bryan Danielson and Adam Cole - so perhaps Reba could interfere in the post-match of Sasha's debut, summoning Naomi to make the save...
Probability: 60%