5 Wrestlers Who Could Be Saraya's Major Secret AEW Partner
3. AJ Lee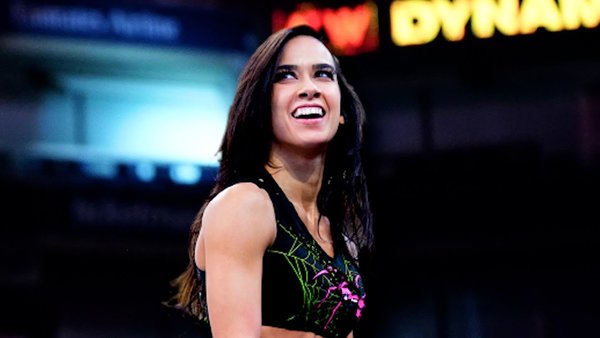 This seems highly improbable, and is really only pitched here because the month-long wait indicates a big name.
AJ Lee probably hasn't heard a glowing appraisal of the company's management from a trusted source, but also, women are not defined by their husbands and have personalities, lives and ambitions of their own.
It is misogynistic to state that AJ Lee is automatically disqualified from consideration - for this list and indeed Tony Khan's actual roster of talent - because her husband seems destined to depart the promotion on deeply acrimonious terms. AJ Lee worked for WWE for over a year after Punk departed that promotion on deeply acrimonious terms, and only retired as a result of ambitions in different fields and a debilitating cervical spine injury. She wasn't just CM Punk's wife; she was a super-fan turned talented, ballsy wrestler so passionate that she marked her first title win with a tattoo.
It wasn't, by her own admission, the least awkward of times, but - not being defined by the man that she married - she gutted it out and lasted as long as her body told her was advisable.
This is the real reason why you are unlikely to see AJ Lee in an AEW ring; indeed, she revealed earlier this year that she has no plans to ever wrestle again. Then again, the same was thought of Saraya until September 22 of this year - and what a thing to unite a babyface tag team.
Still, this is a pipe dream until it actually happens - and given that she was pestered by toxic male wrestling fans with chants of her husband's name before they hated his f*cking guts, you can hardly blame her for not even entertaining the prospect.
Probability: 10%