6 Ups & 6 Downs From AEW Dynamite (23 Oct)
Cody Rhodes falls flat; MJF and The Elite delight; AEW goes the comedy route.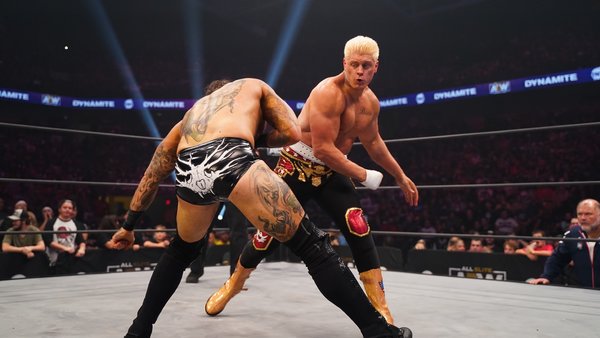 AEW's flirtation with Saturday nights came to an end this weekend.
The company will return to Dynamite's traditional Wednesday night slot midweek, but they'll look back on a mixed fortnight of flagship action. Last week's show was a winner - it featured a hot main event, a surprise title change, Hangman Page's best AEW promo yet and more.
This week? Yeah, this week was a bit of a step backwards for Page and his World Title feud with Kenny Omega. Other areas of the product fell totally flat too, and it's just ever-so-slightly concerning that a top babyface win was booed out of the building. Fans were not happy with Dynamite's conclusion, put it that way.
Watching the show was an often-frustrating experience. One minute, something great happened. Then, in the very next segment, something unsatisfying came along to dampen excitement and make one scratch his head over the decision making. It was very much a mixed bag of wrestling telly.
Here are all the 'Ups' and the 'Downs' from some middle-of-the-road build towards next month's Full Gear. AEW might want to get their finger out before that pay-per-view.