7 Match Star Ratings For WWE Survivor Series 2021
WWE Survivor Series 2021: the 365th night per year where nothing means anything.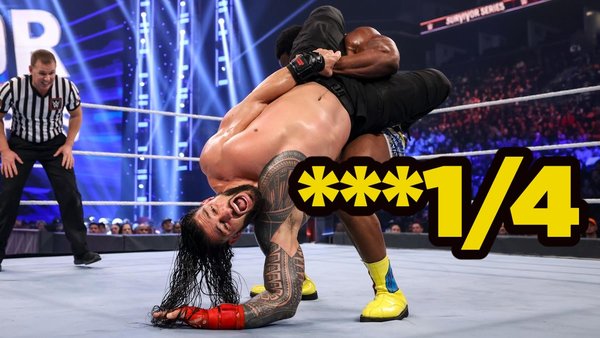 The build to most WWE pay-per-views is awful, because WWE television is automatically terrible, but the build to Survivor Series 2021 was particularly bad.
The company effectively forgot about the show for a while there. It was as if they'd put the whole thing off, fretting about whether or not the woeful inter-brand warfare was simply too cold and sh*tty to bother with, before just proceeding with it regardless. The two-week promotion was staggeringly half-arsed even by WWE standards.
An attempt to create continuity between Roman Reigns' Survivor Series duties and follow-up rivalry with King Woods, while a rare display of thought, was nowhere near enough to create short or medium term excitement. The nadir of Can They Co-Exist was so risible that several key members of the roster buried the concept of the PPV before they even appeared on it. The following critique is harsh, but it's no less harsh than what Becky Lynch and Xavier Woods had to say about it. A grim party held to celebrate the Rock, the man of the hour couldn't bother himself either.
This show is the worst thing WWE does, and think of the ground that covers.
7. KICKOFF: Damian Priest Vs. Shinsuke Nakamura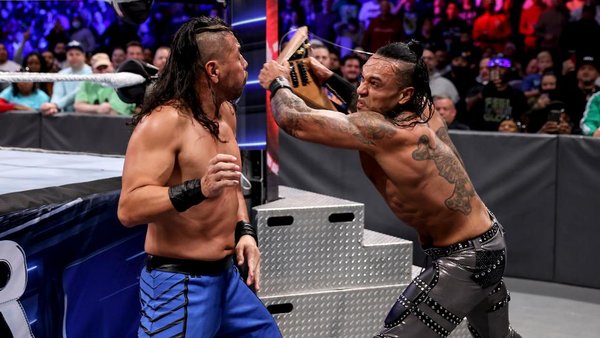 Here's what happened behind the curtain.
WWE creative at some point realised that they had to book the match. It's Survivor Series. The respective midcard champions always wrestle one another at Survivor Series. At present, the respective midcard champions are Damian Priest and Shinsuke Nakamura. Thus, Damian Priest Vs. Shinsuke Nakamura was set. The issue is that they didn't want to book Damian Priest Vs. Shinsuke Nakamura. The match was an inconvenience. They didn't want to beat either of them. But you had to watch it. Because it's Survivor Series.
So, at Survivor Series, you watched a match that concluded nothing and mattered even less. You watched a thumbnail on a streaming service with a finish settled upon with contempt directed towards you, the mark who watched it.
Behind the curtain, somebody said "How do we get away with this?"
As if promoting a meaningful card of action is a crime.
They arrived at the answer: "Just have Priest get DQ'd, who gives a sh*t."
And so Priest and Nakamura were dispatched to the ring for 10 easy minutes of actually not bad action - Priest defended Nakamura's strikes with a degree of inventive credibility - in what will prove to be a challenging trivia question in about a year's time.
"What match kicked off Survivor Series 2021?"
"Who gives a sh*t?"
Star Rating: ★★¾