7 Other 'Best Of' Wrestling Series You Need To See
4. The Wolves Vs. The Dirty Heels - TNA 2015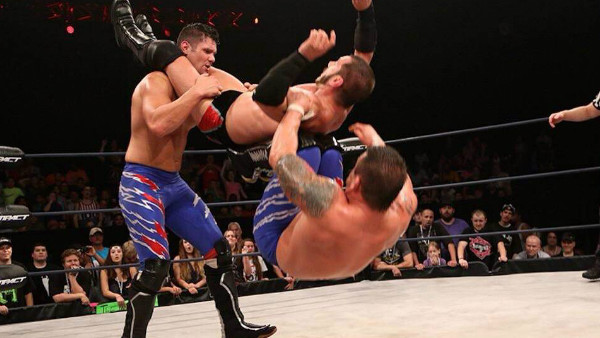 Bobby Roode and Austin Aries may now both be excelling in NXT, but it must not be forgotten that they were two of TNA's most consistent performers during their tenures in the company. Roode was there for 12 years, and despite his great work in singles he is arguably best remembered for his fantastic tag team work over that time.
He teamed with Aries on a couple of occasions as Dirty Heels, winning the TNA World Tag Team Championship during their first run in 2013. They reunited in 2015 confusingly as babyfaces, and a Best of Five Series was booked against then-champs The Wolves. Eddie Edwards and Davey Richards went 2-0 up, and all looked lost for Roode and Aries.
When in doubt, cheat. In the third match of the series the pressure finally gave as Roode blasted Edwards with a low blow and a chair to get the Heels on the board. The series went down to a final match, but Edwards & Richards were able to pull out the win at the last.