7 Ups & 1 Down From WWE SmackDown (Sep 3)
Cracks appear for Roman Reigns; Edge saves Cesaro; SmackDown goes heavy on story.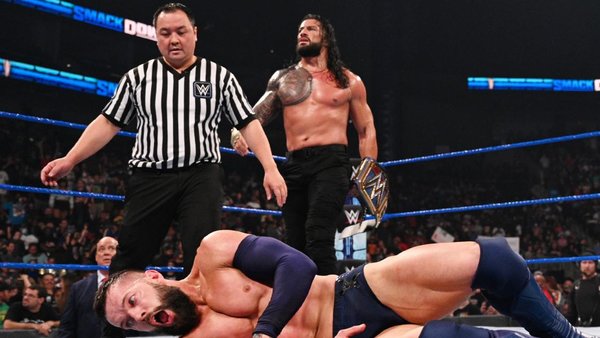 Logan Paul and Baron Corbin are happy.
Weirdly, especially given the lack of actual in-ring minutes afforded to five matches this week, so is your writer. Friday's SmackDown was a story-driven show that motored WWE towards Extreme Rules with aplomb and never stood still. As most know, that's one of the best things about the blue brand - it often whizzes past.
Even bad shows luck out because they only last two hours (that third hour on Mondays is a real killer), but WWE didn't have to worry about that here. The latest Smackers was a delight that only had one 'Down' to moan about. Literally everything else, from the ongoing Bloodline drama and Rey/Dominik Mysterio's father/son issues to Corbin being a rich goof and Becky Lynch playing heel, worked a treat.
Brock Lesnar is also on tap for next week, and so is a SummerSlam rematch between Edge and Seth Rollins. On that, creative did a marvellous job of integrating Cesaro, putting some heat on Seth and positioning Edge as a hero. Simple but effective works, people.
Here's all the good and the shoddy from this week's show...