7 Ways Feuding With John Cena Has Hurt Rusev
Do we really need to see Rusev lose to Cena again? Poor Rusev.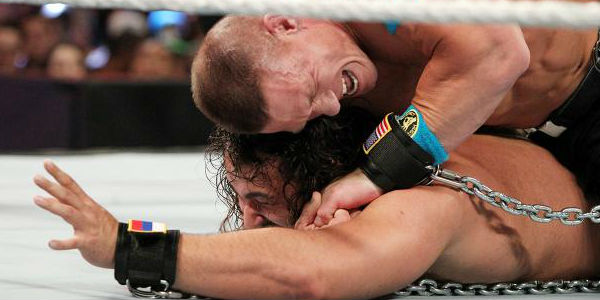 The rivalry between United States Champion John Cena and the "Russian" Rusev has been one of the biggest feuds in WWE this year. They are headed for an "I Quit" match at Payback on May 17 where it's expected that they will have their last match. Cena said if he quits he doesn't want a rematch, but that Rusev gets no more title shots either. Now that we know it's going to end, let's take a closer look at the feud itself. Has it been a good rivalry? That's debatable. Their matches have been just okay and the biggest bright spot is that Cena as the US Champion has made that title mean a lot more. Like him or not, Cena's name is powerful in WWE. His open challenges have been pretty good in terms of have new matchups such as the one this past Monday with Sami Zayn. For Cena it's been good for his career and for fans it's been good just because we got sick of the guy being in main event feuds for the last decade. Then there's Rusev. When people ask the question about whether or not the feud has been good for him, the answer should be a resounding no. Back in February, he was an unstoppable monster that had not been pinned or submitted while on the main roster for about a year. Here we are in May and we're a little over a week away from seeing him lose to Cena for the third straight PPV. This can't be considered a good thing. It's time to break it down by taking a closer look at seven reasons why feuding with John Cena hasn't been a good thing for Rusev's career. The blame doesn't fall on Cena. He's just doing his job. It's the creative team that needs to better.