7 Worst Wrestling Moments Of The Week (May 7)
7. Those Kicks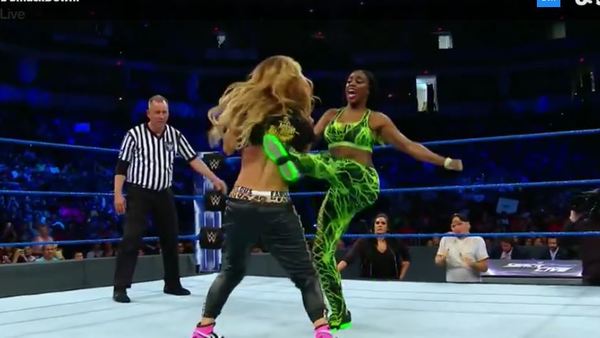 It's time to have a conversation. An honest conversation. A conversation bout the worst looking move in professional wrestling at the moment: Naomi's stand-in-place-kick-her-opponent's-arms-type thing. Let's be fair though.
Here's an argument for keeping the move: in theory, a bunch of kicks to the body could hurt. Here's an argument aginst it: it looks insanely stupid.
There's absolutely no reason for someone to stand in place and take a bunch of weird looking kicks. A really effective counter for the move is to back up exactly one foot. Naomi is then powerless to kick you because she'd have to stop kicking to walk closer.
While this move has been used plenty of times on TV, on SmackDown, it was the worst one yet. Carmella had her hands at her sides, and let Naomi kick her forearms/back of her arms a bunch of times while she stood there and wiggled around.
No one looks good taking the attack because it's so damn goofy. As fast and athletic as Naomi is, there's too much time between each kick, so her opponents look like an idiot for standing there. Seriously, just put your hands up!