8 Match Star Ratings For WWE Clash Of Champions 2020
Instilling belief in the Chief.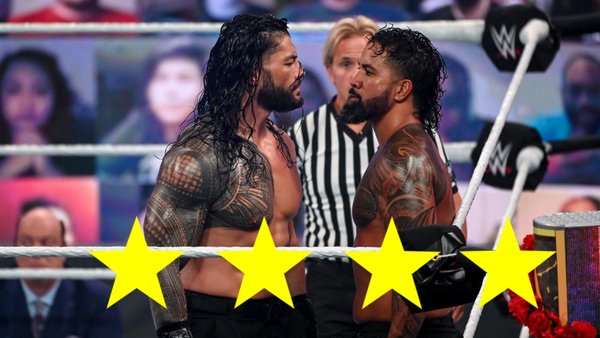 The build to this pay-per-view sucked sh*t.
Randy Orton and Drew McIntyre exchanged the moves that define their personas to the complete detriment of Keith Lee's momentum. This, after Orton whiffed several punt kicks to injure a jaw we know was injured because Drew McIntyre talked perfectly through it but had to clutch at it a few times. Orton then cut a five minute soliloquy by an ambulance because we are too dumb to remember what sort of match it was.
Apollo Crews had mandatory rematch to invoke probably. Angel Garza and Andrade developed a chemistry at long last when that jezebel Zelina Vega stopped interfering with their sh*t. They'd already challenged for gold when they weren't getting along.
Bayley needed a babyface opponent before the Sasha Banks match, and while she'd already faced Nikki Cross 10 times over the spring and summer, she hadn't done so lately. That wasn't a concern for the Kickoff match, nor two thirds of the matches on the f*cking card.
Except the build to Roman Reigns Vs. Jey Uso did not suck sh*t.
A genuinely adventurous and convincing programme plotted and framed with elusive artistry - Jey would come to fear the reckoning glimpsed on his cousin's face a couple of weeks ago - for once, the creative process levelled up to the talent...
8. KICKOFF: Cesaro & Shinsuke Nakamura Vs. Lucha House Party - SmackDown Tag Team Title Match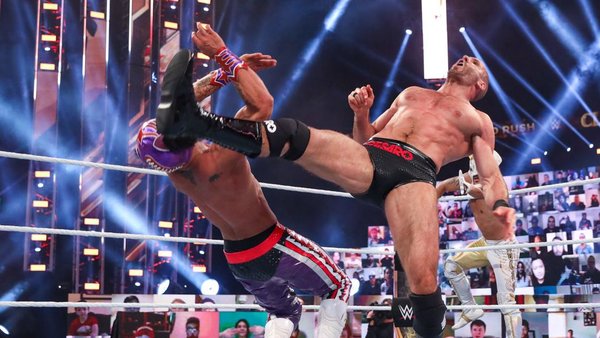 A Kickoff match and all the "just there" quality it tends to entail, Cesaro was nonetheless great value in his early heat spot, slamming and nope-ing Lince Dorado down to the canvas with a delightful get-f*cked shove.
The comeback stretched suspension of disbelief somewhat - Dorado and Kalisto didn't build to the high spots like a sense of belief fired them up, Cesaro just sold as if very easily removed from his feet - but Shinsuke Nakamura has taken to laying his kicks in again, which briefly jolted your writer awake from the mandated autopilot tempo. Elevated slightly above that "just there" flavour of a desperately familiar undercard through the sheer talent of the personnel involved, this was still "just there" as yet another chapter of the fifth never-ending programme on an eight-match card.
Cesaro must have grown similarly bored because he sprinted over to the apron and kicked Kalisto flush in the temple to remove him from it.
It all heated up when Kalisto hit the hot tag, at least in terms of pace, but deeply basic lucha things relative to the scene is always such a hard sell when you know what it is you're not getting.
Factory-made pro wrestling with product consistency guaranteed.
Star Rating: ★★★