8 Ups & 0 Downs From AEW Dynamite: Blood & Guts (29 Jun)
7. Jade Cargill Has Had Enough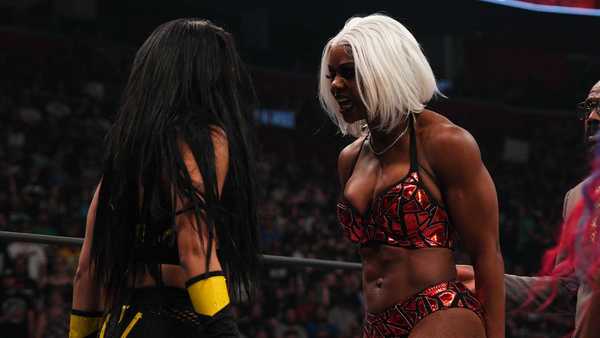 You couldn't brew a cup of coffee in the time it took Jade Cargill to thwart Leila Grey's TBS Championship challenge, but there's plenty to talk about here.
The squash itself was effective. Jade looked confident and in control. Seizing the doomed challenger's arm early, she battered Leila with forearms and knees, then put her up in the air and down on the mat. Grey's first attempted comeback was thwarted when Cargill caught her into a fallaway slam and kipped up.
In complete control (and totally feeling herself), a sh*t-talking Jade got a little too into it, allowing Leila to fire back with a few shots and a running knee in the corner. Cargill then countered the bulldog that followed, hit Jaded, and scored the win.
So far, so simple - but context is key.
Now 34-0, the TBS Champion is bored of wrestling enhancement talents with no realistic chance of beating her. She wants a challenge - and snatched the microphone away from Stokely Hathaway to make her point. With the stick returned to him, Big Stoke pointed out that he'd issued the open challenge at 11:49 PM the night before, calling Athena and Kris Statlander lazy when realistically, they had no chance of responding. Only the desperate, opportunity-starved Grey (deliberately positioned as a dead-on-arrival, unworthy challenger at 0-15) had time to respond. Great, subtle heel work that shouldn't be missed.
When Hathaway talked Grey into assisting Cargill and Kiera Hogan against the onrushing Athena and Statlander, Jade didn't want to accept the aid of somebody she considers beneath her. The TBS Champ swatted her defeated foe's helping hand away.
A babyface turn or step up in competition feature on the list of things this Cargill character direction could be forecasting. There's more to it than Jade (who came off incredibly here) "turning" on Stokely and The Baddies, which would be premature.